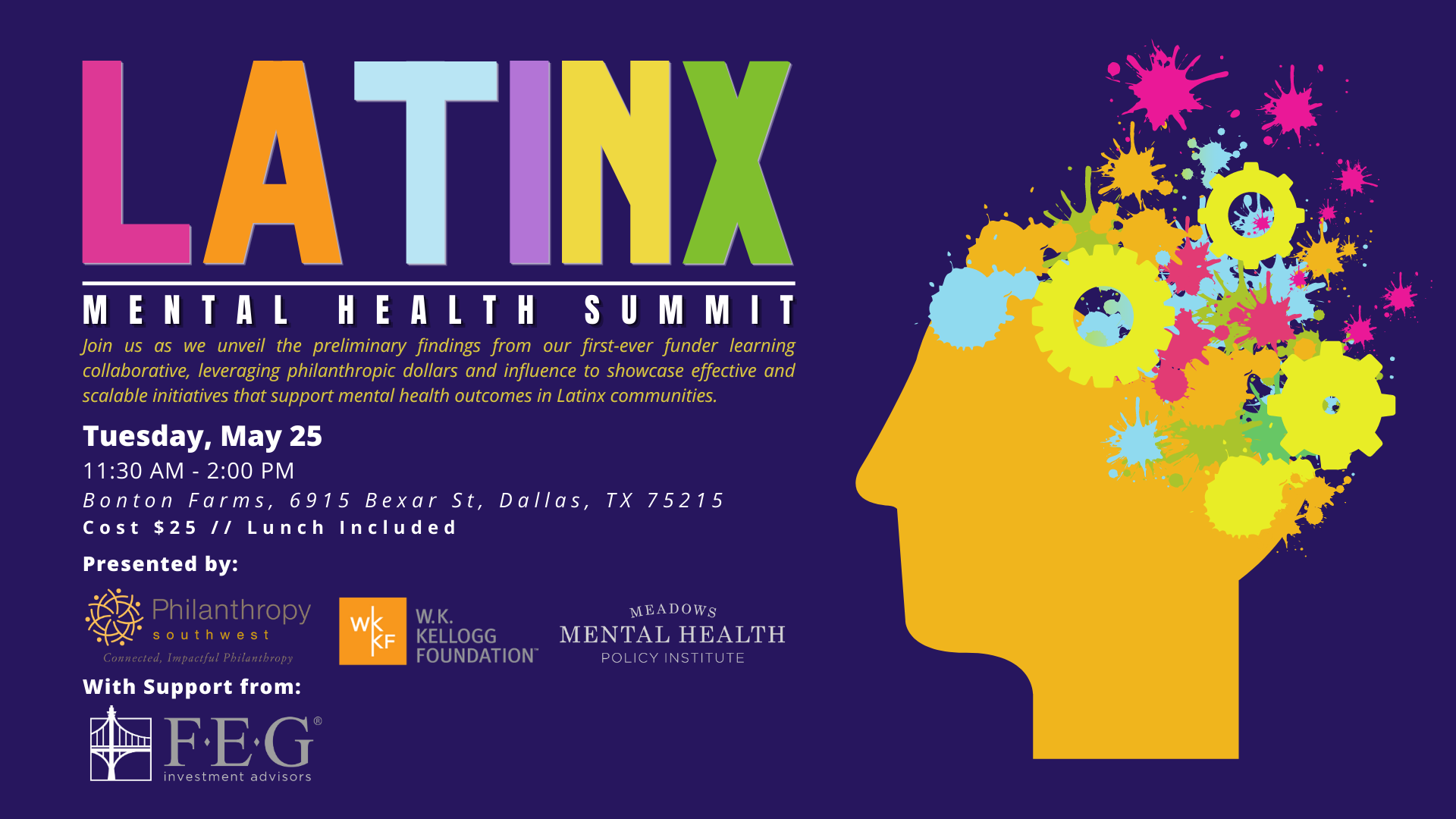 You are invited to join us for a Latinx Mental Health Summit! 
Philanthropy Southwest, in partnership with Meadows Mental Health Policy Institute (MMHPI) and with generous support from W.K. Kellogg Foundation, launched in September 2020 its first-ever funder-focused learning collaborative on mental health. This learning collaborative, consisting of about a dozen funders and national stakeholders including Hispanics in Philanthropy and National Alliance on Mental Illness, has convened to identify gaps and opportunities in behavioral health supports in Latinx communities in North Texas.

During this summit, MMHPI will unveil preliminary findings, strategies, and recommendations to the grantmaking community around leveraging philanthropic dollars for more effective, coordinated and scalable initiatives that support mental health outcomes in Latinx communities throughout North Texas and beyond. 

Bonton Farms, a working urban farm in the middle of a food desert, will host this summit and provide a tour of the grounds. The Bonton example underscores the importance of healthy foods and other social determinants of health that contribute to mental health and well-being. 

We greatly appreciate our summit partner FEG for supporting this event and invite the funding community to join us for this groundbreaking summit. 
Tuesday, May 25 // 11:30 AM - 2:00 PM
Bonton Farms, 6915 Bexar St, Dallas, TX 75215
Cost: $25
Summit Schedule:
11:30 – 12:00: Attendees arrive and optional self-guided tour around Bonton Farms
12:00 – 12:30: Lunch & Welcome
Philanthropy Southwest President & CEO Welcome - Tony Fundaro

Latinx Mental Health Project Sponsor & Summit Sponsor Remarks  

Bonton Farms CEO Welcome - Daron Babcock 
12:30 – 1:30: Presentation by Meadows Mental Health Policy Institute & Q+A
1:30 – 2:00: Guided Tour of Bonton Farms
Please note that this event has a max capacity of 50 attendees. Bonton requires all employees and visitors to wear face coverings in adherence to the Dallas County mask mandate. Click here to register and save your spot! The event includes a farm-to-table lunch ($25).