Member News
Thursday, February 2, 2017
Shawnee, OK - Philanthropy Southwest member, Avedis Foundation along with Blue Zones, LLC and Healthways, Inc. announced the launch of Blue Zones Project® in Shawnee and Pottawatomie County, Oklahoma.  Blue Zones Project® is a growing nationwide well-being improvement initiative designed to make healthy choices easier—community by community—through permanent changes to environment, policy, and social networks.

To read the full press release, click on the PDF attachment down below.
Healthways and Blue Zones Project executives join officials from the City of Shawnee and representatives of the Avedis Foundation's board of directors for the announcement of Pottawatomie County's launch of the Blue Zones Project.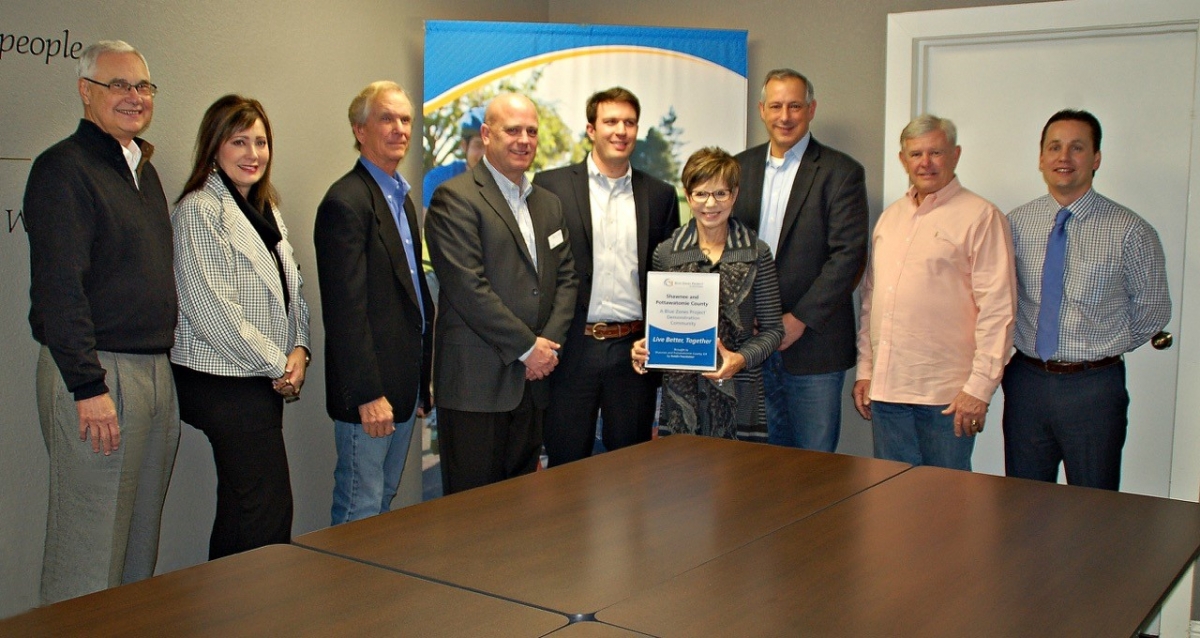 Left to right:  Charles Shields, Avedis Foundation Board Member, Dr. Kathy Laster, Avedis Foundation Board Member, Mike Adcock, Avedis Foundation Board Chair, Jon Werger, Executive Director, Community Programs, Healthways, Inc., Michael Acker, General Manager, Blue Zones Project, Michelle Briggs, President & CEO, Avedis Foundation, Tony Buettner, Senior VP, Business Development, Blue Zones, Richard Finley, Mayor City of Shawnee, Justin Erickson, City Manager, City of Shawnee

A jubilant Michelle Briggs raises the plaque denoting the city of Shawnee and Pottawatomie County as a Blue Zones Project Demonstration Site.
 

Left to Right:  Mike Adcock, Avedis Foundation Board Chair, Jon Werger, Executive Director, Community Programs, Healthways, Inc., Michelle Briggs, President and CEO, Avedis Foundation, Tony Buettner, Senior VP, Business Development, Blue Zones