Press Release
West End's New Neighborhood Park is Now Open
West End Square opens with ANTIBODIES, a temporary art installation reflecting on the monotony of COVID-era video calls March 26, 2021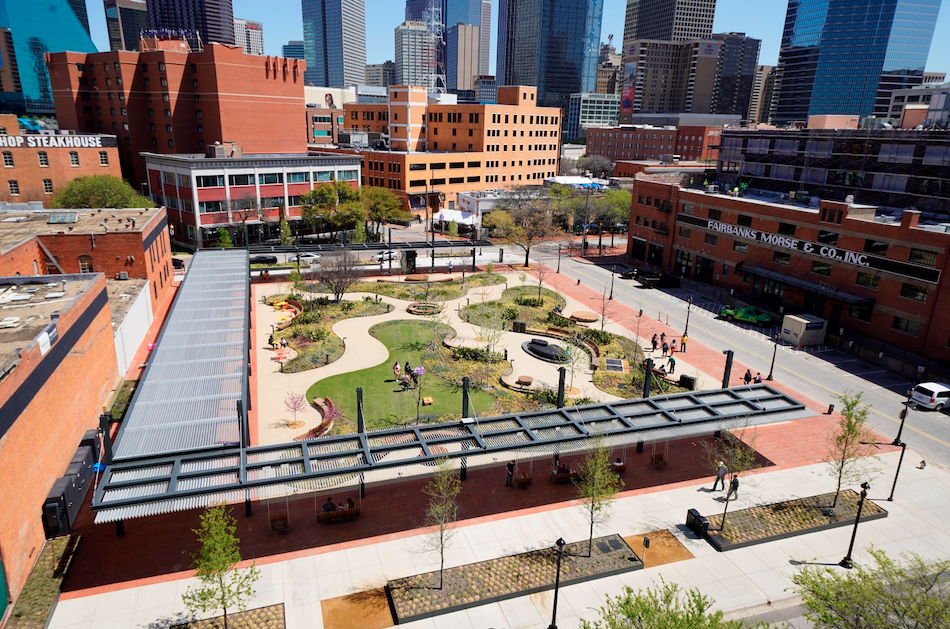 (Dallas, TX) – Today, Parks for Downtown Dallas and the City of Dallas Park and Recreation Department opened West End Square, a public park located at 607 Corbin Street in the West End Historic District in Downtown Dallas. Formerly a surface parking lot, the site has been converted into the only public park in this urban neighborhood. West End Square is the second of four parks built as a result of a public-private partnership between Parks for Downtown Dallas (PfDD) and Dallas Park & Recreation.   Amy Meadows, President and CEO of Parks for Downtown Dallas said "West End Square has been contemplated since 2004 when it was identified as a potential park site in the City of Dallas Downtown Parks Master Plan. We are excited to invite the citizens of Dallas to embrace and enjoy this little gem in the Downtown park system." James Corner Field Operations, the landscape architect and design lead, developed a steel trellis structure that wraps three sides of the park, referred to as the "Frame". The Frame activates the street edge by creating a diversely programmed threshold between the Historic District's sidewalks and the Square's garden interior. The Frame's major design elements include:  
●    The Porch – Featuring porch swings hung from the Frame's edge along North Record Street that are an interactive and social feature, the Porch provides a relaxing environment for all ages. ●    Outdoor Workroom - Located beneath the shade canopy created by the Frame's northern edge, this space houses a 50-foot-long table fitted with charging stations and Wi-Fi, providing a unique opportunity to comfortably work outside.
●    Innovation Arcade - The Frame along the park's Market Street edge is designed to host temporary installations, performances and artwork, further expanding community programming opportunities at West End Square.
See full press release below.